08 Jun

Southview Welcomes Activity Coordinator Loretta
Southview Welcomes New Activity Coordinator
A few words from our incoming activity coordinator: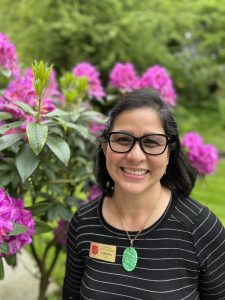 Hello! My name is Loretta Bernabe.
You may have seen me around Southview, as I have worked here for 27 years as a Resident Care Aide. Recently, I am fulfilling my lifelong dream to become the new Activity Coordinator, as our previous coordinator retires. My goal in this new position is to encourage residents to join in physical and mental activities, while keeping everyone happy and entertained.
Inspired by the efforts of our previous coordinator, I am eager to add my own Filipino flavour as I bring karaoke (a type of sing-along) and ballroom dancing as potential activities for our residents. I love to sing and dance – from Michael Jackson to waltz! I learned waltz from my elderly sister who is a ballroom dancing teacher. I would love to invite her to teach everyone as well.
It was my sister, actually, who sponsored me and my parents from the Philippines over 30 years ago. I, in turn, sponsored my fiancé (and now husband) to Canada. We are dear opposites, since I am the youngest of 7 and he is the eldest! We now have three grown-up daughters and make our home in this neighborhood. If you are curious, ask me about how I named my daughters – they each have their unique story!
It has been a privilege to work here at Southview Heights and Terrace. Every day, I am encouraged by seeing friendly colleagues and residents. I hope my cheerful smile cheers you on as well, and I look forward to encouraging everyone in this community!